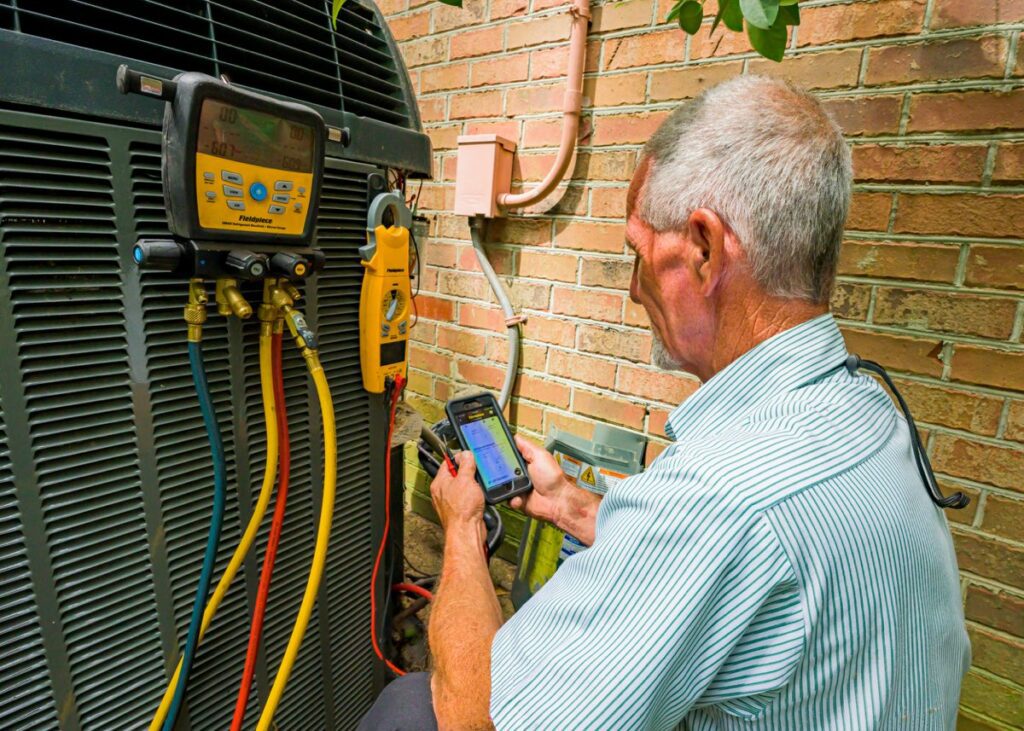 We Got Your Back When You Need AC Repair & Service
That means if it cools or heats, we fix it. No matter who put it in or how long ago. And while other companies might be able to boast about same-day Service, when you Call Mister Greeeeenway, we'll scramble a trained tech on their way in under 30 minutes for your AC repair. No matter WHAT brand system you have:
Amana
American Standard
Bryant
Burnham
Carrier
Friedrich
Goodman
Janitrol
Lennox
Luxaire
Maytag
Rheem
Ruud
Tempstar
Trane
York
There No Need To Sweat AC Repair Service—Anytime
Nothing beats coming through for people. Nothing. Especially when your AC system breaks down or loses cooling capacity. That's time to call Mister Greeeeeenway. Anytime. Any day. You don't schedule AC trouble. You just want relief. We get that. That's why we always have a tech on standby to diagnose your system and get it cooling again. Learn about the top 5 common ac problems in Memphis, TN.
FAQs About Air Conditioner Repair in Memphis, TN by Mister Greenway Heating & Air
Understanding air conditioning repair can be daunting for many homeowners in Memphis, TN. With numerous components involved and varying symptoms that could indicate a problem, it's often challenging to discern the best course of action when your AC starts acting up.
To help clarify some of these complexities, Mister Greenway Heating & Air an air conditioner repair company has compiled a comprehensive list of frequently asked questions (FAQs) about AC repair. Whether you're facing an immediate issue or seeking preventative insights, this guide aims to equip you with the knowledge to navigate your AC repair needs confidently.
Q: How often should my air conditioner be serviced?
A: We recommend servicing your air conditioner or HVAC system at least once a year, ideally in the spring before the peak cooling season starts. This can help identify potential issues early and ensure your system runs efficiently and provide a healthier indoor air quality to your home.
Q: What are some signs that my AC may need repair?
A: Common signs that your AC might need repair include unusual noises, a significant decrease in cooling efficiency, uneven cooling, frequent cycling, or if the unit is blowing warm air.
Q: How long does an AC repair service typically take?
A: The duration of an AC repair can vary greatly depending on the issue's complexity. Simple repairs can be completed in a few hours, while more complicated issues may take a day or more.
Q: What if my AC breaks down during a weekend or holiday?
A: AC issues can occur anytime at Mister Greenway Heating & Air. That's why we offer emergency repair and HVAC services to ensure your comfort and safety, no matter when your AC decides to break down.
Q: Why should I choose Mister Greenway Heating & Air for my Air Conditioning repair in Memphis, TN?
A: Mister Greenway Heating & Air prides itself on delivering high-quality, efficient, and reliable AC repair services. Our licensed technicians are trained to handle various AC models and issues. We are committed to providing excellent customer service and ensuring your AC runs optimally.
Q: How much does AC repair cost in Memphis, TN?
A: The cost of AC repair can vary depending on several factors, including the nature of the problem, the age, and model of your AC system, and whether any parts need to be replaced. We recommend contacting Mister Greenway Heating & Air for a quote tailored to your needs.
Let's Get Your AC Repair Service Scheduled Now