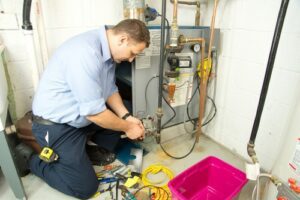 Mister Greenway Heating & Air Conditioning: Premium Furnace Services in Memphis, TN
As the chilly winds sweep through Memphis, a functional and efficient furnace becomes essential for every home and business. Mister Greenway Heating & Air Conditioning stands as a beacon of reliability, offering a comprehensive suite of furnace services to ensure that residents of Memphis stay warm and cozy throughout the colder months.
We provide the following Furnace Services in Memphis:
Furnace Installations in Memphis, TN
Choosing the right furnace and ensuring a seamless installation is crucial for optimal heating performance and energy efficiency. At Mister Greenway Heating & Air Conditioning, our certified professionals guide you through the selection process, ensuring you pick a furnace that matches your home's size, layout, and heating demands. With precision installation techniques, state-of-the-art equipment, and a commitment to customer satisfaction, we ensure that every furnace we install operates at peak efficiency from day one.
Common Causes of Furnace Problems in Memphis, TN
Memphis residents are no strangers to the biting cold that winter can bring. Ensuring a smoothly running furnace during these chilly months is more than a luxury; it's necessary. However, furnaces, like all mechanical systems, can encounter issues. By understanding the common causes of furnace problems, homeowners can better diagnose when to call for Furnace services in Memphis.
The usual suspects behind most furnace hiccups:
Dirty or Clogged Filters: A dirty filter is one of the most frequent causes of furnace issues. Over time, filters can become clogged with dust, pet dander, and other debris. This can restrict airflow, causing the furnace to work harder and potentially overheat.
Wear and Tear: Regular wear and tear can impact the furnace's airflow, heat controls, and mechanical components, causing it to function inefficiently or even break down.
Faulty Ignition: Whether it's a pilot light that won't stay lit or an electronic ignition failure, ignition issues can prevent the furnace from producing heat.
Thermostat Malfunctions: Sometimes, the problem isn't with the furnace but the thermostat controlling it. A malfunctioning thermostat can lead to no heat, intermittent heat, or blasts of hot air.
Fuel Supply Problems: Issues with the fuel supply, whether it's gas, oil, or electricity, can hamper the furnace's ability to generate heat.
Noisy Operation: Rumbling, squeaking, or rattling sounds can indicate a mechanical problem, airflow reductions, or even a clogged burner.
Blower Continuously Runs: Faulty limit switches can cause the blower to keep running, leading to increased wear and higher energy bills.
Water Leaks: A clogged drain or tubing issue can lead to water leaks for furnaces with a condensation process.
Cracked Heat Exchanger: The heat exchanger can develop cracks over time, leading to potential carbon monoxide leaks. This is a serious concern and needs immediate attention.
Frequent Cycling: If the furnace constantly switches between on and off modes, it could indicate a clogged filter, improper airflow, or a faulty thermostat.
Furnace issues can range from minor inconveniences to significant concerns that risk household safety. It's crucial to be aware of the signs and seek professional Furnace services in Memphis when in doubt. Regular maintenance can preempt many of these problems, ensuring warmth and comfort all winter.
Furnace Repairs in Memphis, TN
No homeowner wants to face a furnace breakdown during a freezing night. Recognizing this, Mister Greenway Heating & Air Conditioning offers prompt and efficient furnace repair services in Memphis. Our trained technicians can diagnose various furnace issues, from minor fixes to major overhauls. Using top-quality parts and drawing upon years of experience, we restore warmth to your home with minimal downtime.
Furnace Maintenance in Memphis, TN
Regular maintenance is the key to extending the lifespan of your furnace and ensuring it operates at peak efficiency. Our comprehensive furnace maintenance services at Mister Greenway Heating & Air Conditioning encompass everything from routine check-ups, cleaning, and tune-ups to preventative measures that detect potential issues before they escalate. With our maintenance services, you can know that your furnace is in top-notch condition ready to face the Memphis winter head-on.
Why Choose Mister Greenway Heating & Air Conditioning for Furnace Services in Memphis, TN
When Memphis residents think of high-quality Furnace Services, Mister Greenway often stands at the forefront of their minds. But what truly sets us apart? It combines our deep-rooted commitment to excellence, expertise in the field, and unwavering dedication to our clients.
Why choosing Mister Greenway for your Furnace Services in Memphis is a decision you'll never regret:
Years of Expertise: Our vast experience in the industry translates into unmatched knowledge and expertise. With Mister Greenway, you're not just getting a service; you're benefiting from years of hands-on experience and technical know-how.
Certified Professionals: Every technician at Mister Greenway is certified, ensuring that you're receiving Furnace Services from a professional trained to the industry's highest standards.
Rapid Response: We prioritize fast response times to recognize the importance of a well-functioning furnace, especially during the colder months. This ensures that you're never left in the cold for long.
Transparent Pricing: No hidden fees, no surprise charges. With Mister Greenway, you get transparent pricing, ensuring you know what you're paying for.
Cutting-Edge Equipment: We constantly update our tools and equipment, ensuring that our clients benefit from the latest advancements in Furnace Services technology.
Diverse Service Offerings: Beyond basic repair and maintenance, we offer a wide range of Furnace Services, including consultations, installations, and energy efficiency assessments.
Customer First Approach: At Mister Greenway, our customers are at the heart of everything we do. Your comfort, satisfaction, and peace of mind are our utmost priorities.
Guaranteed Satisfaction: We stand by the quality of our work. If you're unsatisfied with our Furnace Services, we're committed to making it suitable.
Local Understanding: Being locally operated, we understand Memphis residents' specific challenges and needs, tailoring our services accordingly.
Safety First: Every service we offer is executed with the utmost concern for safety, ensuring that your home remains a safe environment.
When you opt for Mister Greenway's Furnace Services, you're choosing reliability, quality, and a team that genuinely cares about your comfort. Don't leave your heating needs to chance; trust the proven experts in Memphis.