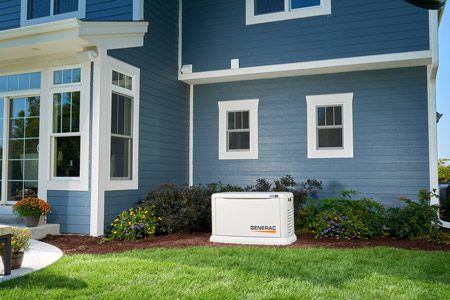 Residential Back-Up Generators By Mister Greenway
Whatever your residential generator needs, Mister Greenway has you covered.
Whole Home or Managed Load? Have a professional from Mister Greenway come out to your home and discuss the options for your specific needs.
From Start to Finish, Mister Greenway Does It All
Our licensed electricians and generator specialists can:
Calculate the electrical load needed to power your whole home (or lesser managed load),
Select the right back-up generator for your needs
Manage the complete installation process, to include pulling the permits, pouring the slab, installing the transfer switches, and ensuring the entire system operates as planned.
Set-up a maintenance plan to ensure your system springs into action and runs without fail when and if you need it.
Work With a Name You Trust
Let's face it, buying a whole home generator is NOT the time to look for bargains or buy a DIY solution.
Not only are you bringing together gas, high voltage electricity, and possibly plumbing, but you're installing a system that only proves its worth IF it functions under adverse conditions — those times when high winds or storms or cold cause the grid to go down.
It just makes sense to trust the selection and installation to professionals who can make sure everything is done properly. That's why you'll want to work with the first-rate electricians at Mister Greenway.
Call For a Free Generator Installation Consultation
If you're seriously thinking about adding back-up power to your home, call Mister Greenway and we'll have our Generator Installation Experts walk you through all your options and considerations.
Click here to get a generator size estimate for your home >>