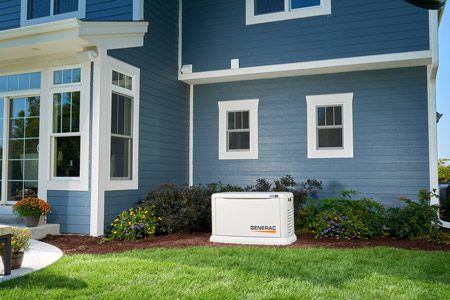 Generac Whole House Generator Installation in Memphis, TN, by Mister Greenway
In the dynamic weather landscape of Memphis, TN, ensuring uninterrupted power to your home is more than a convenience; it's a necessity. Mister Greenway, a trusted name in home services, specializes in Generac Whole House Generator Installation, providing Memphis homeowners with a reliable backup power source. Our team of skilled technicians is dedicated to delivering top-rated installation services, ensuring that your home stays powered through storms, outages, and unexpected disruptions. With Generac's industry-leading technology and our expertise, you can rest easy knowing your home will always have the power it needs.
How a Whole House Standby Generator Works
A whole house standby generator can seamlessly take over when your main power source goes out. Installed outside your home and connected to your existing gas or propane line, it continuously monitors your power supply. When an outage is detected, the generator automatically kicks in, transferring your home's electrical load to the generator. This transition happens within seconds, ensuring that your essential appliances, HVAC, and security systems operate smoothly. Once the main power is restored, the generator automatically shuts off and returns to standby mode, ready for subsequent use.
Why install a Generac Whole House Generator?
Regarding ensuring uninterrupted power supply in Memphis, TN, Generac is a leading name in whole house generators. Mister Greenway, providing top-tier Generac Whole House Generator Installation, highlights why Generac is the preferred choice for homeowners in Memphis seeking reliable, efficient, and long-lasting backup power solutions. Generac's reputation for quality, combined with Mister Greenway's expertise in installation, offers an unbeatable combination for securing your home's energy needs.
Proven Reliability: Generac has built a reputation for producing some of the most reliable generators in the market, ensuring consistent performance during critical power outages.
Wide Range of Models: Generac offers a diverse selection of models with different power capacities, making it easy to find a generator that fits your specific power needs in Memphis.
Advanced Technology: Generac generators are equipped with modern features, including Wi-Fi connectivity and remote monitoring, allowing homeowners to manage their generator's operation conveniently.
Quiet Operation: Generac focuses on engineering generators that operate quietly, minimizing noise disruption, essential for maintaining a peaceful home environment.
Fuel Efficiency: These generators are designed for optimal fuel efficiency, ensuring that running costs are minimal while providing the necessary power.
Durability and Longevity: Built to withstand diverse weather conditions, Generac generators are known for their durability, ensuring a long service life and a sound investment for your home.
Automatic Operation: Generac's standby generators are designed for automatic operation, seamlessly switching on when a power outage is detected and turning off when the power returns.
Ease of Maintenance: With user-friendly designs and accessible customer service, maintaining a Generac generator is straightforward, ensuring it remains in top condition.
Local Dealer Support: Mister Greenway, as a local dealer, provides comprehensive support from installation to maintenance tailored to the specific needs of Memphis residents.
Safety Assurance: Generac generators are built with safety in mind, featuring automatic overload protection and compliance with all necessary safety regulations.
Energy Independence: By installing a Generac generator, homeowners in Memphis can enjoy a greater degree of energy independence, lessening their reliance on the local power grid.
Customizable Options: Generac offers customizable options to fit various homes and lifestyles, whether you need to power a few essentials or your entire home.
Transfer Switch Integration: Generac generators can be integrated with a transfer switch to ensure the power transition during outages is safe and seamless.
Certified Installation by Mister Greenway: Mister Greenway's certified technicians ensure that your Generac Whole House Generator Installation in Memphis meets the highest standards of quality and efficiency.
Choosing Generac for your whole house generator means investing in a product that promises reliability, efficiency, and peace of mind, especially when installed by the skilled professionals at Mister Greenway. Ensure your home in Memphis is prepared for any power outage with a Generac generator installed by the experts.
Benefits of Installing a Whole House Generator in Memphis, TN
Experience peace of mind and uninterrupted comfort in the heart of Memphis, TN, with Mister Greenway's expert Generac Whole House Generator Installation service. Our reliable generators offer a solution to unpredictable weather patterns and frequent power outages, ensuring homeowners can enjoy benefits that extend beyond just power backup. Trust us to keep your home running when it matters most.
Advantages of  a Generac whole house generator installation in Memphis:
Uninterrupted Power Supply: A whole house generator ensures that your home remains powered during outages, keeping essential appliances and systems like HVAC, refrigeration, and lighting running smoothly.
Automatic Operation: These generators kick in automatically when a power outage is detected, seamlessly transitioning your home to backup power without manual intervention.
Increased Safety and Comfort: A whole house generator ensures your home stays comfortable and safe during extreme weather conditions by keeping your heating and cooling systems operating smoothly.
Protection from Power Surges: When the electricity comes back on, power surges can damage electronics and appliances. A whole house generator helps mitigate this risk by providing a stable power supply.
Enhanced Property Value: Homes equipped with a whole house generator are often more attractive to potential buyers, seeing it as a valuable addition, especially in areas prone to power outages.
Peace of Mind: Knowing that your home will remain functional during a power outage provides immense peace of mind, especially for families with young children, elderly members, or those with medical needs reliant on electricity.
Cost-Effective: In the long run, a whole house generator can be cost-effective, saving you from expenses related to spoiled food, temporary relocation, or damaged appliances due to power outages.
Convenience: Unlike portable generators, whole house generators do not require frequent refueling and are less noisy, offering a more convenient and user-friendly solution.
Energy Independence: With a whole house generator, you reduce your dependency on the local power grid, giving you more control over your home's energy resources.
Support for Work-from-Home: For those who work from home, a whole house generator ensures your work is uninterrupted, keeping your devices powered and your internet connection stable.
Customizable Solutions: Generac generators come in various sizes and capacities, allowing Mister Greenway to tailor the installation to meet your power needs.
Expert Installation and Maintenance: Mister Greenway's professional team not only ensures precise installation but also offers ongoing maintenance and support, maximizing the lifespan and efficiency of your generator.
Opting for a Generac Whole House Generator Installation in Memphis with Mister Greenway means choosing a lifestyle uninterrupted by power outages. It's an investment in comfort, safety, and convenience, ensuring that your home remains a haven, regardless of what's happening outside.
Reasons to Choose Mister Greenway for Generac Whole House Generator Installation in Memphis
When it comes to ensuring reliable power backup for your home in Memphis, TN, the choice of the right service provider for Generac Whole House Generator Installation is as crucial as the decision to install a generator itself. Mister Greenway is a leading provider in this domain, offering unmatched expertise and service quality. From understanding your power needs to installing the ideal Generac generator, Mister Greenway's dedicated approach brings numerous advantages.
Why Mister Greenway stands out as the preferred choice for Generac whole house generator installation in Memphis:
Authorized Generac Dealer: Mister Greenway is an authorized dealer of Generac generators, ensuring you receive genuine and high-quality products backed by full manufacturer warranties.
Experienced Installation Team: Our technicians are not only skilled but also have extensive experience, specifically in Generac whole house generator installations, ensuring expert handling of your installation from start to finish.
Customized Power Solutions: We recognize that every home has unique power needs. Our experts provide personalized consultations to determine the best generator model and size for your requirements.
Commitment to Safety: Safety is paramount in generator installations. Mister Greenway adheres to all safety protocols and local codes, ensuring that your installation is both safe and compliant.
Seamless Integration: We ensure that your Generac generator is seamlessly integrated into your home's electrical system, providing a smooth transition during power outages.
Reliable Customer Service: Our commitment to customer service excellence means that we are always available to address your concerns and provide clear, transparent communication throughout the installation process.
Efficient and Timely Installation: Understanding the importance of time, we strive to complete installations efficiently and on schedule, minimizing any disruption to your daily life.
Post-Installation Support: Our relationship with our clients continues after installation. We offer comprehensive post-installation support, including maintenance services and technical assistance.
Local Knowledge and Expertise: Being based in Memphis, we have a thorough understanding of the local weather patterns and power challenges, enabling us to provide solutions perfectly tailored to the region's needs.
Training and Expertise: Our team undergoes continuous training to stay up-to-date with the latest technologies and installation techniques in the generator industry.
Quality Assurance: Our attention to detail is a source of pride. We guarantee that every step of the installation process is carried out with the utmost precision and in line with the highest industry standards.
Emergency Services: In urgent power needs, Mister Greenway offers emergency services to ensure your power backup system is up and running as soon as possible.
For homeowners in Memphis, TN, choosing Mister Greenway for your Generac Whole House Generator Installation means investing in reliability, expertise, and a service that goes above and beyond. Let us help you safeguard your home with a power solution that brings peace of mind and security.