Hire Our Experienced Professionals When You Need Gas Line Repair Services
If a gas utility line serves your household or business, maintaining its portion on your property should be one of your top priorities as a responsible home or business owner.
Signs that Gas Line Repair is Needed
Any plumbing leak is a cause for alarm, but a gas line leak requires an especially speedy response. This is sometimes difficult because a sizable percentage of a property's gas lines may be located outside and away from the structure. Due to the unique aroma of natural gas, however, gas leaks that occur in or near buildings are usually impossible to miss. Any gas line that has become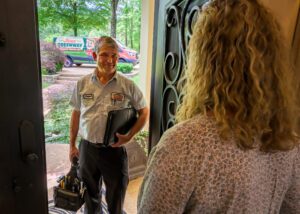 cracked, been struck by a vehicle, or sustained any other damage also needs immediate repair.
The Importance of Timely Repair Services
A properly functioning gas line delivers critical energy for running appliances, fueling HVAC systems in homes, and for powering commercial equipment businesses use. Failing to perform gas line repair and maintenance promptly can result in usage interruptions for furnaces, water heaters, ranges, dryers, and other devices that utilize the fuel carried by the damaged line. These unfortunate interruptions always seem to happen at the most inconvenient times and often lead to extra fees for emergency after-hours gas line repair services. Adverse health effects from breathing concentrated gas vapors may occur in some instances. Leaked gas can also become concentrated, so a tiny spark of static electricity or an open flame sets off a dangerous fire or explosion.
The Hazards of Second-rate Repair Work
The critical nature of even seemingly minor gas line problems emphasizes the importance of turning to an experienced plumber to make all necessary repairs. An amateur repairperson may not have access to premium parts, components, and plumbing equipment and may not possess the knowledge required to perform the job correctly. The likelihood of problems recurring later is also generally greater for inexperienced do-it-yourselfers than seasoned plumbing experts.
The Advantages of Choosing Our Team
You won't go wrong when you hire our plumbing company to take care of gas line repair work at your location. We keep our trucks fully stocked and ready to go, so you can rest assured that we'll arrive on time with all the tools, replacement parts, and personnel needed to accomplish the job. We're fully trained and licensed to perform a wide range of residential and commercial gas line repair services. We also make a point of providing quick responses when emergency issues arise.
If it's been a while since a professional plumber last inspected your residential or commercial gas lines, a visit from our knowledgeable team may be in order. You should also contact us at the first sign of gas line damage or if you smell gas at your location to request an emergency appointment immediately.