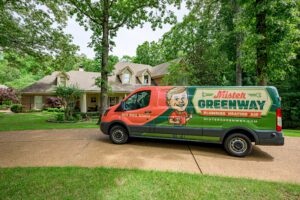 Hydro Jetting Services in Memphis, TN, by Mister Greenway
Do you have stubborn clogs in your plumbing system that seem impossible to clear? Mister Greenway in Memphis, TN, offers an innovative and effective solution with Hydro Jetting services. With our team of skilled and certified Plumbers in Memphis, we ensure your pipes are thoroughly cleaned, promoting optimal function and longevity.
What is Hydro Jetting?
Hydro Jetting is a cutting-edge plumbing technique that utilizes high-pressure water to blast through blockages and residue in your pipes. It's not just about removing blockages; it's a comprehensive cleaning solution for your pipes. This non-invasive procedure can quickly and efficiently remove minor obstructions and severe blockages, providing an optimal solution for various plumbing problems.
Benefits of Hydro Jetting Services by Mister Greenway in Memphis, TN
Hydro jetting, an innovative plumbing solution, has revolutionized how plumbing issues are addressed, leading to more efficient and effective results. At Mister Greenway, we specialize in providing high-quality hydro jetting services to our clients in Memphis, TN, to combat even the most stubborn clogs. Here's a detailed look at some of the key benefits you can expect from our hydro jetting services.
Thorough Pipe Cleaning: Hydro jetting provides a comprehensive cleaning process, unlike traditional methods. It doesn't just remove the immediate blockage but also cleans the inner lining of the pipes, removing accumulated gunk and grime. This ensures that your pipes are left spotless and free from potential bottlenecks.
Long-lasting Results: Given its thorough nature, hydro jetting provides long-lasting results. You won't have to worry about the same problem recurring a few weeks down the line, saving you time and frustration in the long run.
Safe and Gentle on Your Pipes: Hydro jetting is entirely safe for your pipes when done by our professionals. This process uses only water to clear out clogs, meaning no harsh chemicals are used that could potentially damage your pipes.
Eco-Friendly: In today's world, being conscious of our environmental impact is essential. Hydro jetting is an environmentally friendly solution since it only uses water and high pressure to unclog pipes. There are no harmful chemicals involved that could seep into the ground or water supply.
Effectiveness on Various Types of Blockages: From grease buildup to tree roots, hydro jetting is effective on a variety of blockages. This method ensures that no matter the problem, we have a solution.
Preventative Maintenance: Regularly scheduled hydro jetting can serve as a form of preventative maintenance, catching minor problems before they become big ones and helping to extend the lifespan of your pipes.
Choosing Mister Greenway's hydro jetting services in Memphis, TN, means choosing an effective, safe, and environmentally friendly plumbing solution. Enjoy the peace of mind that comes from knowing your pipes are in the capable hands of our experienced professionals.
Common Plumbing Problems in Memphis That Require Hydro Jetting
Plumbing issues can cause significant disruption to your daily routine and, if not addressed promptly, can lead to severe damage. At Mister Greenway, we have been providing practical solutions to a wide range of plumbing problems in Memphis, TN, including those that require hydro jetting. Below, we have outlined some common issues that often necessitate this advanced, highly efficient treatment.
Persistent Clogs: If you repeatedly deal with clogs in your sink, toilet, or bathtub, hydro jetting can provide a long-term solution. This service can eliminate the stubborn buildup causing these recurring problems by thoroughly cleaning your pipes.
Slow Drains: Slow drains often indicate buildup within your pipes. Hydro jetting can remove this buildup and restore your drains to proper working order.
Sewer Line Blockages: Traditional methods of clearing out sewer lines can be disruptive and often only provide a temporary solution. Hydro jetting, however, can effectively remove the most stubborn blockages without damaging your sewer lines.
Grease and Fat Buildup: Grease, fat, and oil can accumulate over time, causing significant pipe blockages. Hydro jetting can effectively break up and remove these substances, leaving your pipes clear and functional.
Tree Root Intrusion: Tree roots can infiltrate your pipes seeking water, leading to severe blockages. Hydro jetting can cut through these roots, clearing your pipes without extensive excavation.
Scaling in Pipes: Mineral deposits can create a scale inside your pipes, reducing water flow. Hydro jetting can remove this scale, improving the efficiency of your plumbing system.
Trust in the expertise of Mister Greenway to handle these common plumbing problems and more with our hydro jetting services in Memphis, TN. We offer a robust solution to keep your plumbing system running smoothly and efficiently.
Why Choose Mister Greenway for Hydro Jetting Services in Memphis, TN
Hydro jetting is a specialized service that requires the right expertise and equipment to ensure the job is done right. Mister Greenway in Memphis, TN, offers top-notch hydro jetting services that stand out.
Here are some reasons why you should consider us for your hydro jetting needs:
Expert Technicians: Our team consists of highly trained and skilled technicians who are experts in hydro jetting. They use their in-depth knowledge and years of experience to deliver high-quality service every time.
State-of-the-Art Equipment: We use the latest hydro jetting technology to clear blockages and clean your pipes effectively. Our advanced equipment ensures a thorough job with minimal disruption to your property.
Comprehensive Inspection: Before proceeding with any hydro jetting service, we conduct a detailed inspection of your plumbing system to identify the exact cause and location of the problem. This allows us to provide a customized solution that best suits your needs.
Excellent Customer Service: We believe in offering top-tier customer service. From the moment you contact us to completing the job, we're committed to providing a seamless and satisfactory experience.
Transparent Pricing: With Mister Greenway, you won't have to worry about hidden costs or surprises on your bill. We provide upfront pricing and discuss all costs associated with the service before beginning the work.
Emergency Services: Plumbing problems can occur at the most inconvenient times. That's why we offer 24/7 emergency hydro jetting services, ensuring we're there when you need us the most.
Environmentally Friendly: Hydro jetting is a safe and eco-friendly method of cleaning your pipes. It does not involve using harmful chemicals, protecting your pipes and the environment.
Trust Mister Greenway for reliable, efficient, high-quality hydro jetting services in Memphis, TN. We're dedicated to helping you maintain a clean and fully functioning plumbing system.
FAQs – Hydro Jetting Services in Memphis, TN
At Mister Greenway, you may have questions about our hydro jetting services in Memphis, TN. As part of our commitment to exceptional customer service, we've compiled this list of frequently asked questions to provide you with the necessary information. If your question isn't answered here, please get in touch with us directly.
Q1: What is Hydro Jetting?
A: Hydro jetting is a plumbing technique that uses high-pressure water to clean and unclog pipes. The process effectively removes blockages caused by grease, tree roots, and other debris that can accumulate over time.
Q2: Is Hydro Jetting Safe for My Pipes?
A: Yes, when performed by a professional like Mister Greenway, hydro jetting is safe for your pipes. Our team has the training and experience to adjust the pressure used based on the condition and type of your pipes.
Q3: How often should I have Hydro Jetting Done?
A: The frequency of hydro jetting depends on several factors, including the age of your pipes, usage, and the type of waste disposed of in your drains. We recommend hydro jetting every 18-24 months for residential properties.
Q4: How Long Does Hydro Jetting Take?
A: The duration of the hydro jetting process depends on the size and condition of your plumbing system. A standard hydro jetting service typically takes 1 to 3 hours.
Q5: What are the Signs I Might Need Hydro Jetting Services?
A: Common signs that indicate the need for hydro jetting include slow drains, frequent clogs, foul odors from your drains, and recurring plumbing problems.
Q6: What's the Difference between Hydro Jetting and Snaking?
A: Snaking is a method that uses a metal rod to puncture a clog, while hydro jetting uses pressurized water to thoroughly clean and clear your entire pipe. While snaking can be helpful for minor clogs, hydro jetting is often more effective for severe or recurrent blockages.
For further queries about our hydro jetting services in Memphis, TN, don't hesitate to contact Mister Greenway. We're always here to help!